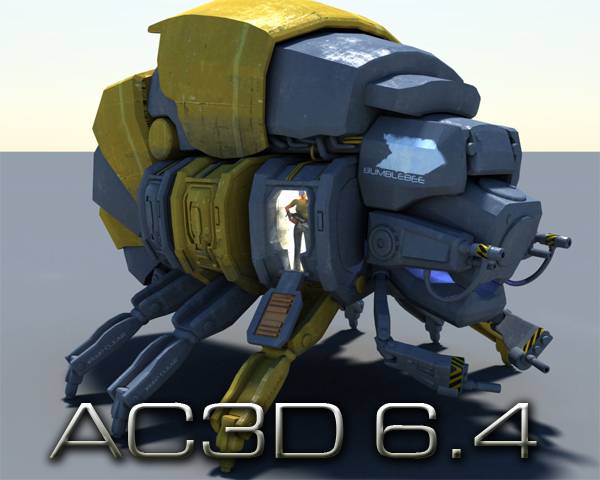 Out now!
More power to your texturing
Texture updating - AC3D 6.4 watches for any changes made to the texture-file, and will reload any changed images. This saves time and really speeds up fine-tuning of textures when edited in an external image editor – see your changes instantly in 3D!

AC3D's Texture Coordinate Editor has been enhanced with a number of useful features. As well as specifying a dimension for a new (blank) texture, you can now copy a texture map (pre-cropped) directly to the system clipboard – ready to paste into your image editor. Zoom controls have been added so you can easily view your texture mapping over the original 100% size texture image.
Design new clothes for your Second Life avatars
Feel like designing a new look for your SL avatar? AC3D can help you decide what to wear! Simply load one of the AC3D models provided with AC3D 6.4 (access the avatar folder from File->Open or File->Object-library). Edit the provided textures with your favorite image-editor and AC3D will (with its new texture-update facility – see above) instantly give you a preview of what it will look like in SL. Save yourself both time and upload fees L$.
BAS relief / height-mapping
AC3D 6.4 comes with SuperColdMilk's excellent Bas-relief plugin which allows you to create heightmaps from 2D image data. Simply create any shape (e.g. a rectangle) texture it with menu Object->Texture->Load-texture and then select the Tools->Bas-relief-from-texture.
This will generate a new mesh from the image data which can then be rescaled as desired.

Custom Axis rotation
| | |
| --- | --- |
| The rotate widget in AC3D's control-panel has been upgraded so that it can handle custom axis 'C'. Now you can select two vertices (e.g. a line or two vertices along the edge of a model), press "Set axis" and any future rotates with the + or – buttons will rotate the selection around the axis defined by the two vertices. Great for moving an aileron around a wing edge. | |
Other changes
Sandio 3D mouse support

Locked objects can now be shown in full 3D (or wireframe as before) - see advanced settings.

Improved DDS loading.

Improved PNG support.

New Milkshape exporter from TFPsoft which uses the AC3D hierarchy to produce a skeleton.

ATI NMF exporter

: turn your high-resolution model into a normal map for a low-resolution model. Works well with ATI's NormalMapper.

Mac – Leopard fixes. Most Mac users should notice a speed increase with multiple views.

Linux – new binary is compiled under Ubuntu.
Other news
Nascar '09
We are pleased to announce that AC3D is the recommended program for EA Games Nascar '09 when creating and previewing new car textures. We are looking forward to seeing some designs posted in the WIP section on the forum.
Forum
Upgrades
This release is FREE if you bought AC3D from December 2006 onwards. If you purchased your current AC3D software license before this time, you'll need to upgrade.

Visit our upgrade center for a discounted upgrade:

http://www.inivis.com/upgrade.html