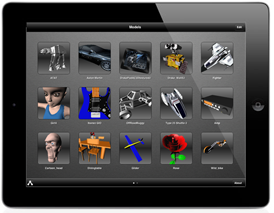 AC3D Viewer for iOS (iPhone, iPad and iPod Touch)

Store, view and share your favorite AC3D models with this handy new app - a great companion to our main AC3D software.

Carry around your 3D models and show them to friends/clients.
Spin your 3D models; zoom and position your 3D view with your fingers.
Choose a snapshot of your favorite viewpoint as the icon.
Display your models with or without textures, or in wireframe.
Save images for use in documents and emails.
Share models with others by emailing directly from your iOS device.
Import your models from email, Dropbox or via iTunes (you can also add texture image files this way if required).
Comes with a number of sample AC3D models.

Technical Info.
All surfaces are shown as two-sided
Lines are not shown
Any textures should be png and dimensions should be a power of two e.g. 256x256, otherwise they will not show.
Wireframe displays a wire view of the triangulated model (The same model in AC3D would appear non-triangulated wireframe)